Elevator Company Servicing The Buffalo NY & Rochester NY Areas
Bison Elevator Service, Inc., is a full-service company specializing in elevator and escalator design, construction, maintenance, repair and modernization. We've been proud to serve the Western and Central areas of New York State since 2000, as a locally-owned and operated company. We offer our services to residential, commercial and industrial properties.
The Leading Design-Build Authority on Elevators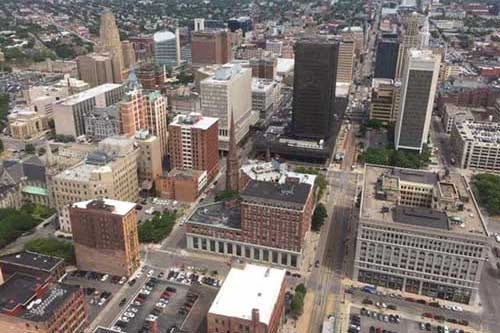 When you need the professional assistance of an elevator company in the Buffalo, NY and/or Rochester, NY areas, choose the one that does it all: Bison Elevator Service, Inc. Not only are we your foremost authority for elevator maintenance and repairs, we're also a fully-equipped design-build firm that can work with you to create and install a custom elevator to meet your building's unique needs. Our highly capable team has mastered all facets of elevator service, giving you a broad scope of reliable, trusted expertise that will lend itself to your elevators, escalators, lifts and just about anything that goes up and down!
When you call us for elevator service in the Buffalo, NY and/or Rochester, NY areas, know you're getting the very best in workmanship and customer service. We have several maintenance plans designed to meet the routine and unexpected needs of your elevators, as well as the ability to diagnose and repair problems as they arise. Got an elevator from decades past that needs to be modernized and updated to meet building codes? We can do that too! We're even happy to work with contractors and developers on new buildings and renovations where elevators are concerned. We truly and completely do it all. Take a look at just a few more reasons our customers continue to choose us for unparalleled service:
We're a full design-build company, giving our customers infinite customization options to meet their unique, specific needs.
We're a union shop that ensures our skilled workers are being paid the prevailing wage!
Our expertise extends to all facets of vertical transportation. If it goes up and down, we're the ones to call!
We've been a locally-owned and operated company since 2000.
We're members of Elevator Contractors of America (ECA) and the National Association of Elevator Contractors (NAEC). Bison Elevator is a Union Shop, signatory to the International Union of Elevator Constructors (IUEC) – Local 14, Buffalo, NY and Local 27, Rochester, NY.

Experts in Elevator Services
If you've got an elevator or escalator that needs service, or you're looking for highly qualified professionals to design and build a custom apparatus, we're the ones to call! Contact us today.
Areas Served
Proudly offering elevator installation and maintenance to the following areas:
Buffalo, NY
Rochester, NY
Depew, NY
Tonawanda, NY
Orchard Park, NY
Grand Island, NY
Hamburg, NY
North Evans, NY
Elma, NY
Lancaster, NY
Erie County, NY
Niagara County, NY
Chautauqua County, NY
Cattaraugus County, NY
Western New York
Central New York
North Boston, NY
North Tonawanda, NY
Eden, NY
Clarence, NY
Marilla, NY
East Aurora, NY
Niagara Falls, NY
Colden, NY
Allegany County, NY
Wyoming County, NY
Genesee County, NY
Orleans County, NY
Taking WNY To The Top…One Floor At A Time!